Description
Chicago Pneumatic Spike Drivers are robust, powerful tools, which can be used for driving spikes in railroad, construction and plant maintenance applications.
These specialized spike drivers are built to the same exacting specifications as our heavy duty pneumatic breakers, but with an open front head without tool retainer. The opening in the front head accepts a maximum spike head diameter of 44 mm. Both models are "Hushed Power" versions equipped with a muffler.
The opening in the front head accepts a maximum spike head diameter of 1.73 in.
Service friendly
Easy access to daily service points.
Integral oiler
Provides continuous lubrication.
Four-bolt back head
Withstands rugged use.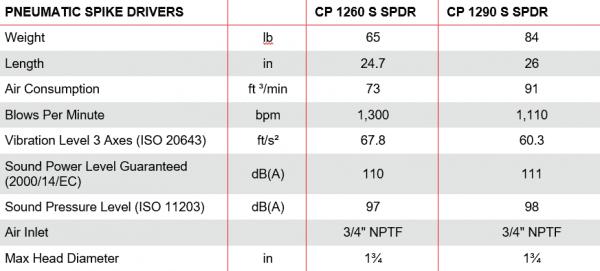 Check out our other Spike Drivers
Trust Railroad Tools and Solutions as your source for power tools and accessories. We carry the brands your crew knows and the brands they need to know. Now offering many battery-powered railroad tools. We carry hydraulic power tool and power packs. Pneumatic and gas-powered tools at competitive prices. Spike Drivers, Rail Saws, Grinders, Spike Pullers, Tie Tampers and Power Units – everything you need! Save time and money by keeping your MOW crew set with dependable tools.
RRTools stocks a wide variety of double square 8 point impact sockets by OZAT and Wright Tools for quick shipping. Railsaw blades, grinding wheels, cup stones and bull nose grinders also available in many sizes.
We stock many power tools and accessories in our warehouse for quick shipping to keep your job running!
Call or email RR Tools for your top industry railway tools.