Description
Our line of pneumatic roller railcar vibrators offers a full range of frequency and force. With only three internal moving parts, these hopper railcar vibrators have an extended life and require minimal maintenance.
HOW IT WORKS: Air pressure activates the multi-slotted vane on two rollers (one within the other) which creates multiple vibrations on each orbit; this produces a powerful force at a high frequency.
KEY FEATURES:
This series of roller railcar vibrators and shaker solutions is the industry standard for hopper railcar unloading.
Mounts easily to most standard wedge brackets for use with hopper railcar pockets.
There are no bearings, seals, or O-rings.
3 moving parts (vane, roller-vane, inner/outer roller) provide for simple, long-wearing vibration requiring minimal maintenance.
Shaft, roller, and endplates are hardened and ground to assure high performance and reduced wear.
Frequency ranges between 2000 and 9000 vpm depending on the type of railcar vibrator and air pressure applied.
It produces a powerful output force ranging from 1000 pounds up to 7500 pounds.
INCREASED UNLOADING EFFICIENCY WHEN USED WITH THESE COMMODITIES SHIPPED VIA HOPPER RAILCAR:
Agricultural and Food/Beverage Commodities: potash (fertilizers), urea (fertilizer), corn, soybeans and soybean meal, wheat, sorghum, and distillers dried grains and solubles (DDGS).
Aggregate/Mining Commodities: salt, coke, crushed stone, sand, gravel (up to 1/2″), limestone, cement, iron ore, gypsum, and frac sand.
Many Other Commodities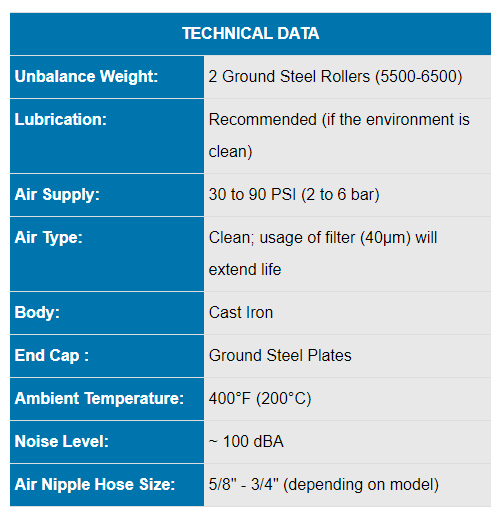 ROLLER RAILCAR VIBRATOR PRICING, SPECIFICATIONS, AND PERFORMANCE 
Model                    Frequency                                             Force Output                                      Air Consumption                             Weight
                                30 PSI    60 PSI    90 PSI                     30 PSI    60 PSI    90 PSI                   30 PSI    60 PSI    90 PSI                  w/ out bracket
………………              vpm         vpm         vpm                        lbs           lbs           lbs                           cfm         cfm        cfm                         lbs
CR 5500                5000       7000       9000                      1700       3500       5700                      30           49           58                          33
CR 6500                3500       5000       7000                      1800       3700       7100                      32           44           52                          38
CR 7800                2000       3000       5500                      1600       4200       8100                      35           46           51                          40